Description
Edit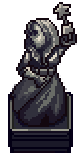 Goddess of Magic, a powerful but poorly accepted god.
Worship Bonus: Elemental damage +3
Debuff: Suffer 3 more physical damage
Sacrifice at the hall: Max mana -1. Intellect -1
Cost money: 10% of current gold (minimum is 10 gold).
Punishment for Betrayal: Max mana - 3
(Confirmation needed)
Tattoo 1: 10% chance to restore 1 mana when attacked. Rune: Copper #3
Tattoo 2: 10% chance to restore 1 mana when revealing a mist-tile. Rune: Copper #1, Silver #1
Tattoo 3: Restore 1 mana upon using skills. Rune: Copper #2, Gold #3
Event: Beautiful Goddess
Strategies
Edit
This is one of the most powerful gods in the game for skill-heavy builds, particularly with Svafa and Hogg, but somewhat more difficult in the early game until you get the tattoos and unlock/learn new skills. The tattoos give a big boost to mana restoration, couple this with Svafa's passive or Hogg's Gnash skill and you should have no problem staying alive long enough to reach full power.
The passive tattoo abilities are some of the most focused and useful in the game and all three are worth getting as quickly as possible. Note that the extra elemental damage only applies to wands and staves.
Ad blocker interference detected!
Wikia is a free-to-use site that makes money from advertising. We have a modified experience for viewers using ad blockers

Wikia is not accessible if you've made further modifications. Remove the custom ad blocker rule(s) and the page will load as expected.